Tools
Current Magnetic Conditions for SW Canada (and US PNW) are available at the Natural Resources Canada site.
Hepburn Tropospheric Ducting Forecast. Use the left and right arrows on your keyboard to see data for a different part of the current day.
Current Propagation estimate from http://www.hfpropagation.com:
Propagation Estimate From HAMSQL
Current Optimum NVIS Frequency Map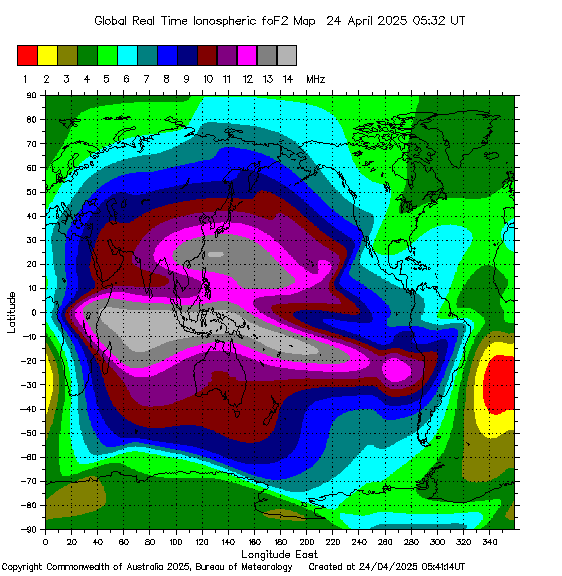 Solar Cycles 23, 24 activity. This is a static graph, just for reference.
Northern California DX Foundation (NCDXF) Beacon Information
http://ncdxf.org/pages/beacons.html
Listen for the beacon call signs on these frequencies
14.100
18.110
21.150
24.930
28.200
Rough approximations for azimuth and distance to the beacons, from Western Washington:
| Beacon | Beam Heading | Distance |
| --- | --- | --- |
| 4U1UN | 86° | 3765 km |
| VE8AT | 11° | 3659 km |
| W6WX | 183° | 1358 km |
| KH6RS | 237° | 4440 km |
| ZL6B | 224° | 11796 km |
| VK6RBP | 270° | 14964 km |
| JA2IGY | 302° | 7950 km |
| RR9O | 346° | 8190 km |
| VR2B | 310° | 10360 km |
| 4S7B | 335° | 13436 km |
| ZS6DN | 56° | 16316 km |
| 5Z4B | 28° | 14254 km |
| 4X6TU | 20° | 10653 km |
| OH2B | 18° | 7454 km |
| CS3B | 58° | 8240 km |
| LU4AA | 132° | 11198 km |
| OA4B | 134° | 8083 km |
| YV5B | 113° | 6644 km |